Dan Shaut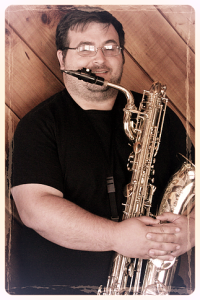 Saxophonist Dan Shaut received his master's degree in saxophone performance at the University of Maryland and his bachelor's in music education at Ithaca College. He has studied with Steve Mauk, Steve Brown, Chris Vadala and Dale Underwood Shaut has taught instrumental music in the Kingston City School District. For the past ten years, he has also served as adjunct professor of music at the College of St. Rose in Albany and, for the past five years, in the same capacity at SUNY Ulster.
He has taught music majors and minors at both the undergraduate and graduate levels. Shaut spent three years as a freelance musician and continues to perform professionally. He was selected as a member of the Walt Disney World Collegiate Saxophone Quintet, and was the tenor sax soloist with the award-winning Starlight Orchestra in Williamsburg (VA). As a member of the Maryland Saxophone Quartet, he toured Brazil, where he performed with Dale Underwood; and he's performed with Frankie Valli and The Four Seasons as well. Shaut appears on a 2005 recording by composer and trumpeter Rusty Dedrick. He performed on and co-produced the CDs "Saxophone and the Drum" and "Jazz for Christmas Time." As a director Shaut has had the privilege to work with jazz greats such as; Wycliffe Gordon, Aaron Diehl, Chris Vadala, Chris Washburn, Gary Smulyan, Dennis Mackrel, John Mosca, Terell Stafford, Uhadi, Alvin Atkins and Brandon Lee Shaut currently leads a jazz nonet and the newly formed, professional 17-piece Hudson Valley Jazz Orchestra. He recently was in the recording studio again to perform on the debut album of Bob Shaut's saxophone quartet, Sax Life.
Summer Camp Course
"Improvisation for the Comprehensive Musician" Students will build on the skills they have been developing as a musician to start improvising and developing the vocabulary needed to spontaneously compose. Students will not only see how the fundamental skills in music i.e. rhythm, melody and harmony are the same skills needed to improvise but how those skills will also benefit from improvisation. Students need only an open mind and a desire to create to enter the world of improvisation.