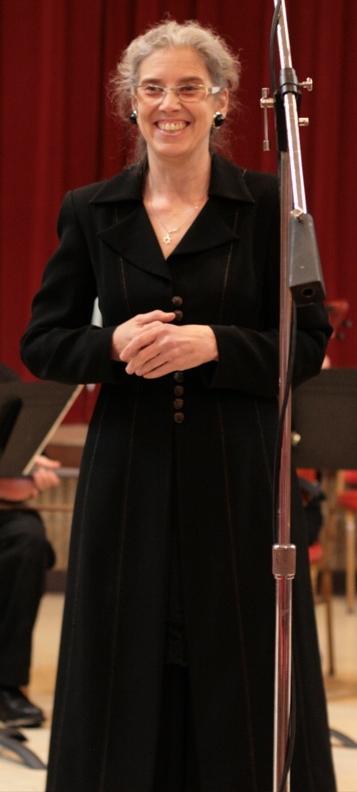 Anastasia Solberg, violist, completed her graduate studies in performance at the Hochsule der Kunste, Berlin, with Prof. Bruno Giuranna. She is founder and director of Ensemble Solange, a mixed chamber ensemble that performed primarily in Europe. Ensemble Solange focused on composers whose works were rarely performed. The ensemble was also involved in numerous radio productions.
Anastasia has been the violist for the American Festival of Microtonal Music since 1996 and has many world premiers to her credit, including works by: Victoria Bond, Anton Rovner, Violetta Dinescu, and Luc Marcel. Anastasia most recently played all seven viola parts on a recently released CD, "Universe Symphony", encompassing the works of Charles Ives. She is currently working on two recordings featuring the complete chamber works of Rebecca Clarke and the 17 poems by LI Po set for intoned voice and adapted viola, with her own transcription and adaptation. The CD "Violist" features performances with the AFMM from the last 10 years and was released in December of 2009.
After teaching as an adjunct professor of violin and viola at various institutions of higher learning (NYU, Temple University) and running her own private studio, Anastasia decided that she could best assist those around her by opening a music school. In 2001, she founded the Music Institute of Sullivan and Ulster Counties (MISU).
The school, as a 501c3 non-profit organization, hopes to offer tuition free lessons for all in the near future. The school has grown and now fosters two community string orchestras, an adult learning program, a preparatory program for college and conservatory bound musicians, and a flourishing Suzuki program. MISU also offers private instruction in piano, voice, violin and viola. Anastasia has also been collaborating with two local community colleges with performances and instruction.
Teaching Philosophy
The prime advantage of my many-faceted education is the exposure to numerous forms of pedagogy. Through observation and much trial and error, I have developed my own distinct method of teaching. I do not limit myself to traditional scale systems, etudes and schools of technique but, rather use them as a means to an end. I want to awaken the mind of the student, always vigilant for new ways in which to apply traditional methods.
One very important part of teaching is properly conveying how to practice, what to practice, and the reasons for practicing. Another important part is to understand our bodies by learning how they function: Our bodies do not just move, but receive signals from the brain before those moves are made. This is vital to comprehending why and how our fingers, and our bodies, do what they do. These basic principles are necessary to learn and understand before students can successfully create music and properly utilize their creative energy. My ultimate aim is to teach students how to teach themselves, to allow them to become independent, so that they may continue to properly educate themselves throughout their lives.
In addition to teaching the standard repertoire for the viola and viola, I have also made it my responsibility to utilize lesser-known works in my teaching; I often utilize and expose my students to contemporary literature. By exposing students to contemporary music, I hope not only to broaden and diversify their repertoire, but also to broaden their minds and their capacities for learning. The classic method of teaching, which neglects modern and contemporary literature, limits the number of works one is able to learn and, as a result, is both detrimental to creative thinking and to the development of musicianship.
I believe that a student's education should also involve chamber music, especially with different combinations of instruments such as voice and wind instruments. The skills that a musician acquires through these partnerships are invaluable.
I believe that all students who have the will to succeed–whether that will is applied through hard work or by means of inherent talent–can, with proper instruction, and with the understanding of how to practice, have a realistic chance at succeeding in this world.
–Contact her at anastasiasolberg@gmail.com–